Which is the best load planning application? (Part 3/4 – pricing and trial version)
In the first part, we discussed the functions that individual container and truck loading applications offer. In the second part, we talked about the experience that awaits the user when using these programs. Today, we will look at the prices of individual software, see if they have a free trial available, and if such a trial version has any limitations. If you are more interested in the final results; you can skip to the last part of our mini-series.
The list of all tested applications with links to their websites is at the end of this article.
Price
As with any purchase, the price is a significant factor when buying a new application. After all, the goal of load planning software is not only to save time, but also money. However, we need to carefully consider whether a few tens or even hundreds of saved dollars for a license will not result in higher financial costs in the end than when buying more expensive software. Thanks to its quality, it will provide us with higher savings. Surprisingly often, I talk to users who already have completed load planning software in the company they work for. Still, its use was either complicated, lacked important functions, or the resulting load plans were so bad that employees did not use the software. Therefore, they tried to find a better solution.
In such a case, the saddest thing is that the owner or management of the company hardly ever admitted that they made the wrong decision about choosing software. Instead, they forced the employee to continue using inappropriate, but already paid for, software instead of buying different software, one desired by the employees who use it daily. Therefore, I recommend choosing not only according to the price, but especially according to the suitability of the solution for the company where it is to be used.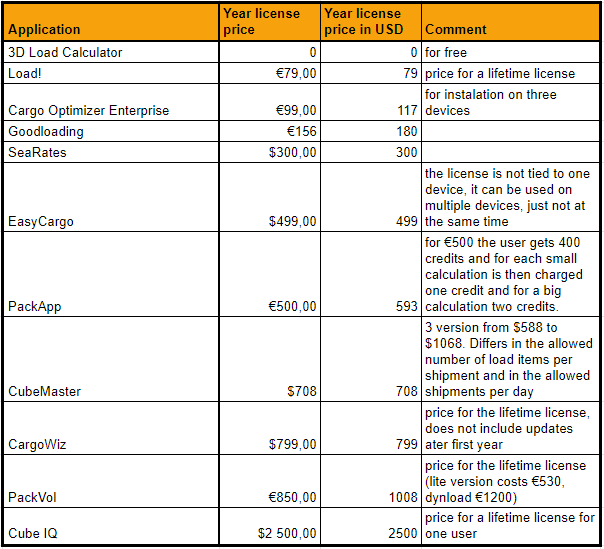 Prices for a one-year license of loading software
In the table above, you can see the prices for individual applications. They are listed in the price for a one-year license. Some software has a different payment model, such as PackApp, where you buy credits that you spend on individual calculations. In that case, I tried to calculate how much the use of the software will cost per year with this payment model. However, everyone will use the application in a slightly different way. Other solutions also have a lifetime license. Therefore, always read the comment in the last column.
After the free 3D Load Calculator, your budget is the least burdened by Load! ($79), Cargo Optimizer Enterprise ($117), and Goodloading ($180). In the category from $300 we can find SeaRates ($300), EasyCargo ($499), PackApp ($593), CubeMaster ($708), and CargoWiz ($799). In the group from $1,000, there are also PackVol ($1,008) and Cube-IQ ($2,500).
Did you know that EasyCargo provides a calculator showcasing possible savings in relation to the processed load per year? Plus, thanks to the formula written right next to the calculator you can determine the savings for other software, too!
Trial version
If we take the applications one by one in alphabetical order, then 3D Load Calculator has an infinitely long and completely unlimited trial version, as it is free. Cargo Optimizer Enterprise has a 14-day unlimited trial. You can try CargoWiz without any limitations for free for twenty days and you can even use Cube-IQ for a full 30 days without any restrictions. Cubemaster has a 30-day and EasyCargo has 10-day trial version, both without any limitations.
Although Goodloading offers a free trial version, it is essentially more of a demo version. It is limited to a few load items with predefined packages and a few predefined cargo spaces. If you want to enter your dimensions, whether cost items or space, you have to pay two euros, for which you will get a full trial version for seven days. That one is already without restrictions.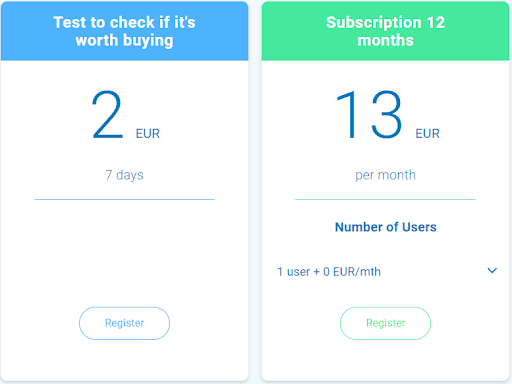 With Goodloading, you need to pay even for the trial version. On the other hand, it's just a symbolic fee
Source: Goodloading.com
PackApp is similar. Its demo version is limited to 25 items and has only two predefined containers without the ability to add your own. If you want to try the program on your own real-life examples, you must purchase a license for a standard price.
PackVol has an unlimited 30-day free trial.
There is only a demo version available with SeaRates, in which there is a single calculation that has predefined items and a container. Therefore, this will not give you any idea about the quality of the calculation.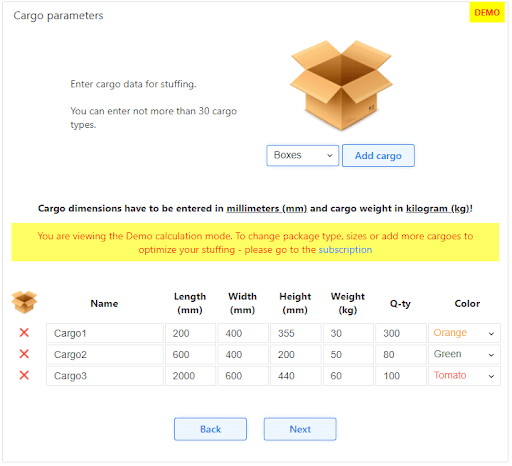 Very limited demo version of SeaRates application
Source: searates.com/reference/stuffing/
And that's all for today. Next time, I will show you the final comparison in which I will rank the applications as objectively as possible from best to worst based on all the features we have talked about in all three parts of this series.
Here are the Top 11 solutions with links to their websites: 3D Load Calculator, CargoWizz, Cargo Optimizer Enterprise, Cube-IQ, CubeMaster, EasyCargo, Goodloading, Load!, PackApp, PackVol, and SeaRates.
Anna Melounová | 18. نوفمبر 2020
---