Why is EasyCargo the best application on the market for shipment planning?
The importance of cargo loading software has grown in the quick-paced world of logistics and transportation, where efficiency is king. These instruments hold the secret to ensuring weight distribution, expediting the entire transportation process, and maximizing cargo loading. Are you tired of dealing with manual calculations, guesswork, and potential logistical nightmares? In this post, we investigate the top cargo load planning softwares that are currently on the market and provide you with a detailed comparison of their features, user interfaces, compatibility, and costs.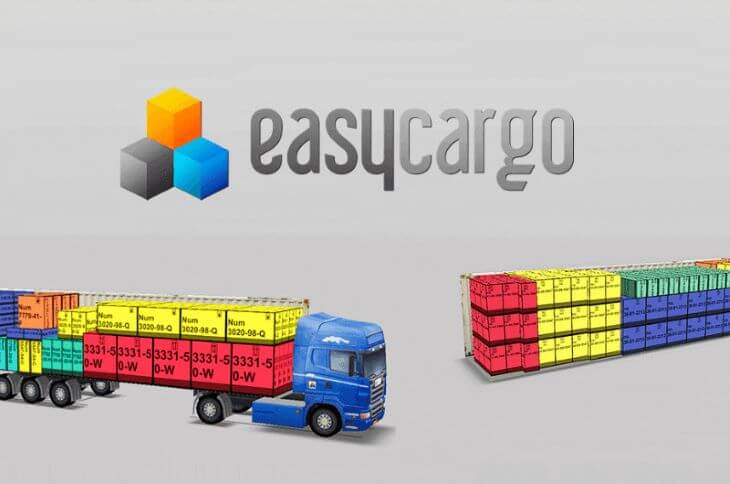 We decided to update our comparison from 2021 and find out which applications meet the biggest upgrade.
Five cargo planning software programs will be the focus of this comparison: EasyCargo, GoodLoading, CargoWiz, Pier2pier, and Cube Master. We hope to help you choose the best cargo planning software for your unique requirements and organizational needs by comparing their features, user interfaces, compatibility, and pricing.
Supported languages
In order to guarantee a seamless user experience and accessibility across worldwide marketplaces, language support is essential. Businesses working in varied locations and multilingual environments must be aware of language availability. Let's examine the language capabilities of these software programs to see which ones have the most language choices. Check out the number of supported languages for each software:
EasyCargo: 16

CargoWiz: 9

Cube Master: 8

GoodLoading: 7

Pier2pier: 4
As you can see, EasyCargo won this category as it is the most compatible software for employees in international companies who speak different languages. Compared to other software, EasyCargo supports Vietnamese, Swedish, Hungarian, Finnish, Arabic, Romanian, and Catalan. If you compare it with our comparison from 2021 you can see that EasyCargo, Pier2pier, and Cube Master expanded their list of supported languages.
User interface
Each piece of software has a unique strategy for providing a simple and easy-to-use interface. Individual needs and tastes may influence preferences.
EasyCargo has an aesthetically pleasing and approachable user interface. It combines a simple layout with a simple drag-and-drop capability, enabling users to put goods in loading areas and alter them with ease. The 3D loading diagrams in the software offer precise visual representations, improving the user experience overall.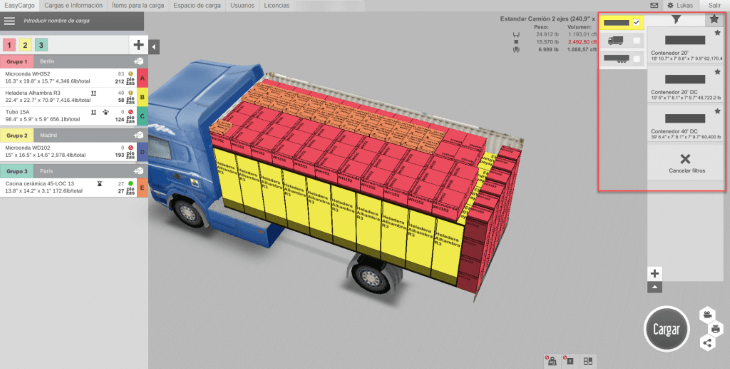 Source: https://webpicking.com/wp-content/uploads/2001/01/EasyCargo-2021-03-b-1024×517.png
GoodLoading provides an interface with an emphasis on usability and simplicity. It is simple to comprehend and modify cargo placements due to its visual representations of cargo loading. To guarantee a seamless user experience, the program places an emphasis on simple controls and navigation.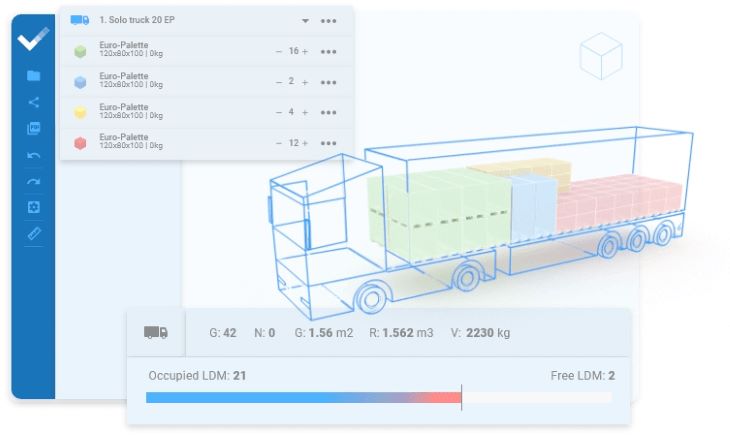 Source: https://www.goodloading.com/en/
CargoWiz places a strong emphasis on its 3D visualization and simulation capabilities. Users can turn and view loading plans from various perspectives, allowing them to efficiently evaluate cargo arrangements. The program has an interactive user interface that enables the comparison of various loading circumstances.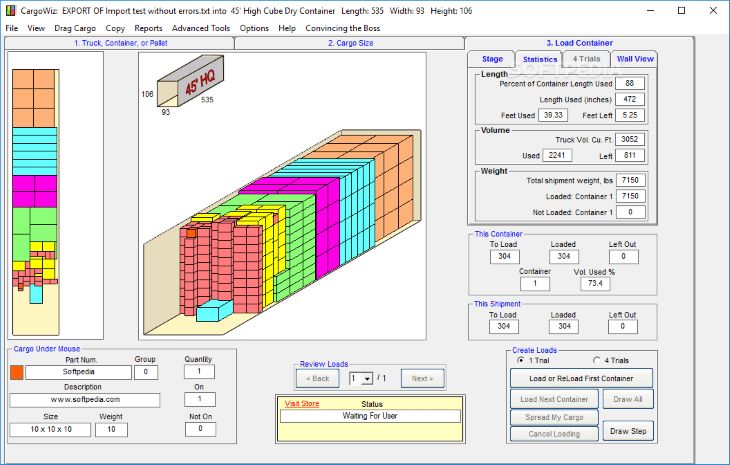 Source: https://windows-cdn.softpedia.com/screenshots/CargoWiz_3.png
Although Pier2pier's primary areas of interest are container tracking and shipment management, it also provides a user interface (UI) that makes managing and tracking shipments easier. In order to coordinate logistics effectively, the interface enables real-time visibility into container movements and vessel timetables.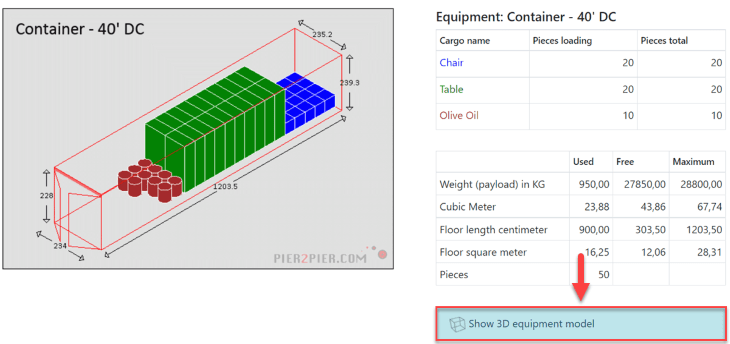 Source: https://pier2pier.com/Guide/images/3dlouad_result2.png
The UI of Cube Master was created with a focus on load optimization. It offers clear 2D and 3D visuals of loading plans so customers can evaluate the placement of the goods and make the most of the available space. The software provides simple controls and the option to specify stacking guidelines for effective loading.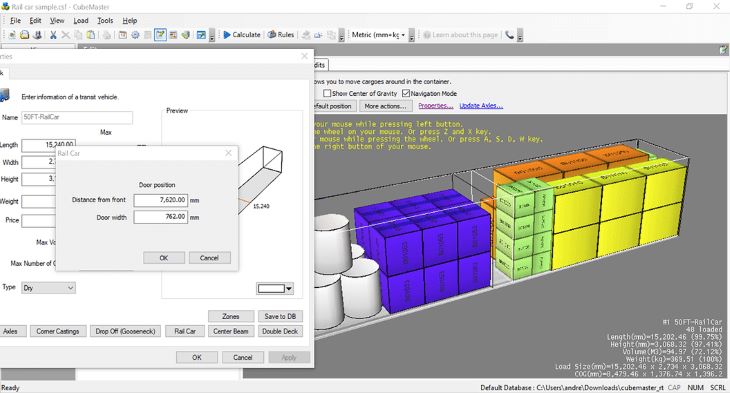 Source: https://static.wixstatic.com/media/bd056b_73358ce2d60a495c91103730a86366ef~mv2.png
We have two favorites in this category. EasyCargo has an appealing appearance, simple controls, and straightforward drag-and-drop capabilities. GoodLoading has a great user interface of the software. It puts user-friendliness first and makes sure that users can effectively engage with the program to design the best cargo-loading strategies.
Compatibilities
It's critical to compare the operating system (Windows, Mac OS, etc.) support, device compatibility (desktop, web-based, mobile), and integration abilities when evaluating their compatibility.
EasyCargo: Web-based access is provided (run the application through your web browser), it works with both Windows and Mac operating systems, and it provides integration tools via an API.
GoodLoading: Compatible with Mac and Windows operating platforms, accessed mostly through installed applications.
CargoWiz: Mainly accessible through installed software, it is compatible with both Windows and Mac operating systems.
Pier2pier: A web-based platform with integration capabilities for shipping and logistics service providers that can be accessed on a variety of operating systems, including Windows and Mac OS.
EasyCargo and Pier2pier stand out when examining the interoperability and integration possibilities. Web-based access, interoperability with a variety of operating systems, and integration capabilities are all provided by EasyCargo.
Another important aspect in the case of comparison is accessibility from mobile devices. Read this article where you will find out which applications are optimized for mobile devices and more.
Pricing
It is critical to compare pricing structures for cargo loading software solutions, taking into account elements like free trials and subscription plans.
EasyCargo: Starting at 67 USD per user per month, subscription-based pricing. You can try it with a 10-day free trial. For businesses buying in bulk, it offers additional sales. For educational usage, you can get it for free for one year.
GoodLoading: Starting at 13 USD per month per user (12 months minimum), subscription-based price with a free trial.
Pier2pier: No pricing information found.
CargoWiz: There are two types of prices: subscription-based price for 18 USD per user per month with a minimum of 12 months of use or buying the program outright with the one-time option for 879 USD. For this option, updates are free just for the first year of use.
Cube Master: Subscription-based pricing with a free trial starting at 49 USD per user per month.
If you check our latest comparison of prices, you can see changes in the types of subscriptions and prices in general.
Following a thorough analysis of a variety of factors, we identified EasyCargo as the market-leading software solution for cargo loading. EasyCargo provides a complete and user-friendly experience with its strong optimization algorithms, simple user interface, operating system compatibility, and web-based access. Additionally, it offers free trial and integration options, making it a flexible and affordable option for companies of all sizes.
Tip: There are more ways to optimize your shipping process than just using the right cargo-loading software, read about it here.
John Carpenter | 25. يوليو 2023
---