International Fair for Transport and Logistics in Brno
Introduction of the EasyCargo application with all its new features, competition in stacking cargo in a container, and a sweet reward for the right solvers. You can experience this and much more at our stand no. 22 at the jubilee 10th year of the International Transport & Logistics Trade Fair.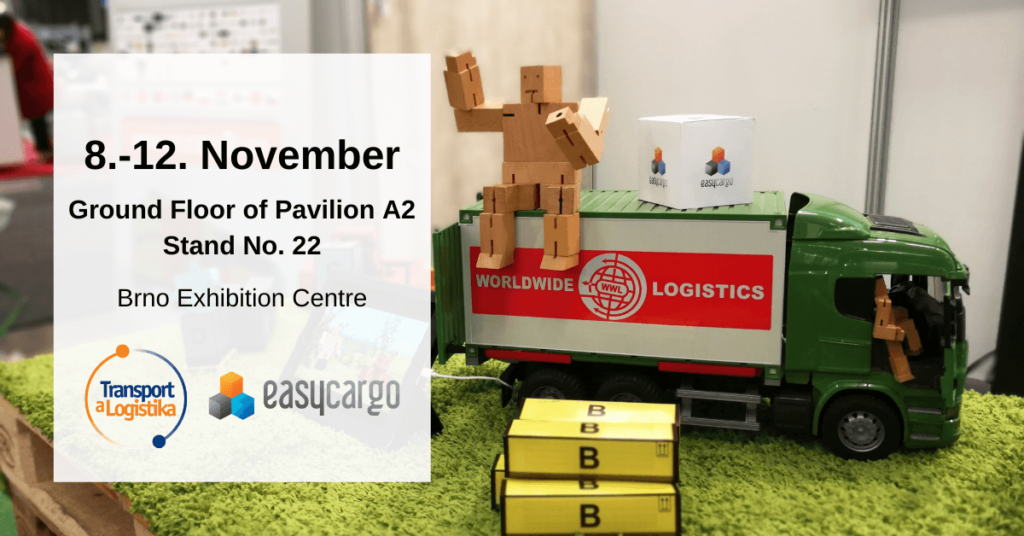 About Transport & Logistics Fair
BVV's International Transport & Logistics Trade Fair is a major event in Central and Eastern Europe's fair calendar and takes place every two years as a part of the International Engineering Fair. Last year, 120 companies from 12 countries took part, with the Czech Republic, Slovakia, Poland, Germany, and China having the largest representation.
Where to find us
This year, the event will take place during the week from 8 to 12 November from 9:00 to 17:00 (Friday to 16:00) at Brno Exhibition Centre and EasyCargo will definitely be part of it. We will be very happy if you visit us at stand no. 22 on the ground floor of pavilion A2 and share your thoughts about our software.
We will bring the Container Puzzle with us this year as well, on which we will demonstrate the complexity of stacking cargo in a container. Come and see for yourself that freight planning is not a piece of cake, and compete with your colleagues to see who will be more successful at it. We have a well-deserved reward ready for the successful solvers!

Practical information
It is possible to get to the exhibition grounds both by car (and use some of the Brno car parks) and public transport (by bus no. 44 and 84 from the Autobusové nádraží stop to the Výstaviště – hlavní vstup stop or by tram no. 1 from the Hlavní nádraží stop to the Výstaviště – hlavní vstup).
The most convenient way to buy tickets is online directly on the exhibition center website. It will be possible to buy them on-site, but at an increased price.
Due to anti-pandemic measures, it is necessary to present not only a valid ticket at the entrance but also the relevant proof of infectivity, such as:
National vaccination certificate or EU Covid pass (EU citizens) proving that vaccination has been completed at least 14 days prior to the event,
Laboratory confirmation on having recovered from Covid-19 disease in the period not longer than 180 days,
Negative RT-PCR test not older than 72 hours or,
Negative POC (antigenic) test not exceeding 24 hours.
It is also possible to use self-tests, which can be purchased for a fee of CZK 50 before entering the exhibition grounds. . Indoors, it is mandatory to have the mouth and nose covered with a respirator or other protective device with a filtration efficiency of at least 94% (class FFP2 / KN 95) or a surgical drape.
We look forward to seeing you!
Anna Melounová | 2 Nov 2021
---