Software-Driven Green Logistics – What Does the Future Hold?
The logistics industry is going through a period of rapid change. Two driving factors when it comes to innovation, common to a wide range of industries, are advances in software solutions and environmental concerns.
As green solutions take an increasingly prominent place in all business decisions, it's good news that contemporary advances in software provide a number of ways of increasing efficiency and reducing emissions and waste. Here, we take a look at what the future of software-driven green logistics holds with the Joloda Hydraroll team, helping to bring logistics providers into the modern age.
Loading solutions
For a lot of people, the first thing that comes to mind when they think of logistics is driving. While this is undoubtedly a major part of the logistics operation, the other key area that can see optimization and increased efficiency is the loading process.

Modern, environmentally-conscious solutions can help logistics providers achieve their green goals by increasing overall operational efficiency; they allow logistics providers to load their trucks in the most efficient manner possible, thereby saving space and decreasing the number of trucks out on the road.
This reduces resource consumption, improving the logistics process for the environment while increasing profit margins for the company in question.
Driving solutions
One of the most important areas of the logistics process that can see environmental improvements is, of course, the emissions released during driving.
The currently dominant powertrain solution, diesel-fuelled internal combustion engines, releases a wide variety of pollutants and greenhouse gases that will need to be completely eliminated in the decades to come. Luckily, there are several emerging solutions.
Electric vehicles
Electric vehicles, or EVs, are becoming an increasingly attractive solution for logistics providers for a number of reasons. First and perhaps most obviously, is the fact that EVs don't directly emit pollutants into the air.
As the energy grid continues to shift towards sustainable and renewable energy sources, these benefits will become even more pronounced. EVs also require less maintenance due to the lack of moving parts, leading to less truck downtime and smaller necessary fleet size.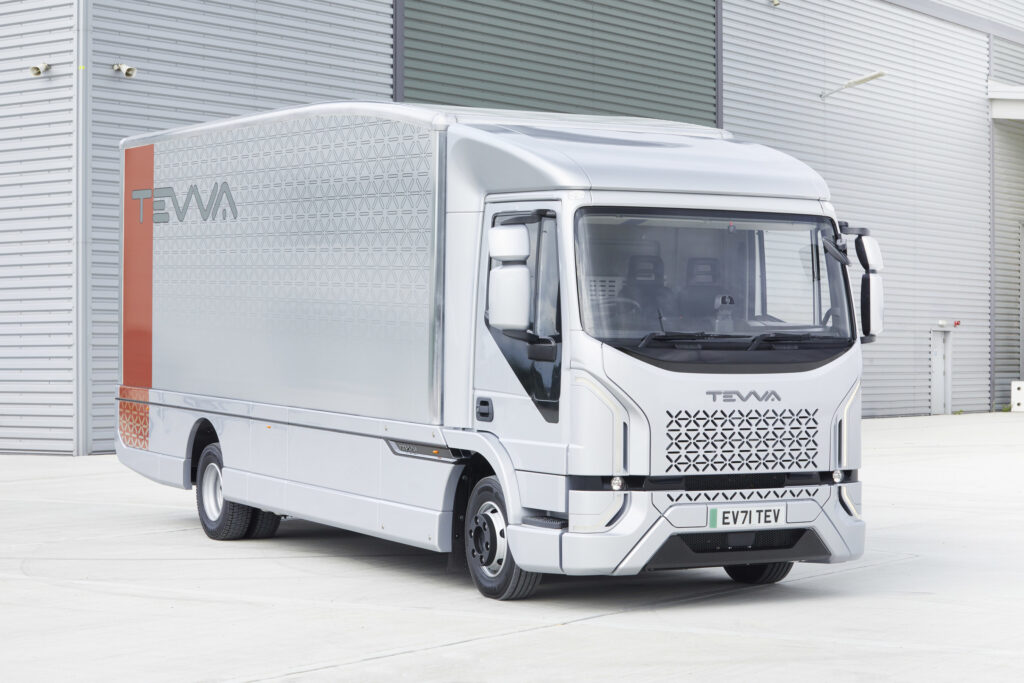 Source: https://www.prnewswire.com/news-releases/tevva-devoile-un-camion-electrique-audacieux-887738628.html
A secondary software-related benefit to EVs is the ease with which they can be integrated into AI and machine learning route optimization tools.
These emerging technologies can help provide businesses with insights into how they can optimize energy consumption, by providing optimum times for driving conditions and with routes that use the least energy possible.
Smart route planning
In both urban and rural areas, software solutions are becoming more and more critical when it comes to optimizing route efficiency.
While it was once the norm to stick to standard routes, it's now possible to use a combination of live and historic data to optimize routes, helping logistics providers to reduce both emissions and the time their drivers need to spend on the road.
These solutions are just a few examples of a multitude of software-driven logistics solutions that will bring the logistics industry into the modern age. Check out this article for more trends in logistics or this one to find out the role of 5G in logistics.
Anna Melounová | 23. loka 2022
---