Changes left by the COVID-19 pandemic in the TSL sector
The pandemic has put many industries to a great test. Therefore, today we would like to focus on the changes that the coronavirus has left in the Transport, Shipping, and Logistics (TSL) industry, without which nothing moves. We hope that this post will be helpful to you and give you something to think about. Enjoy reading!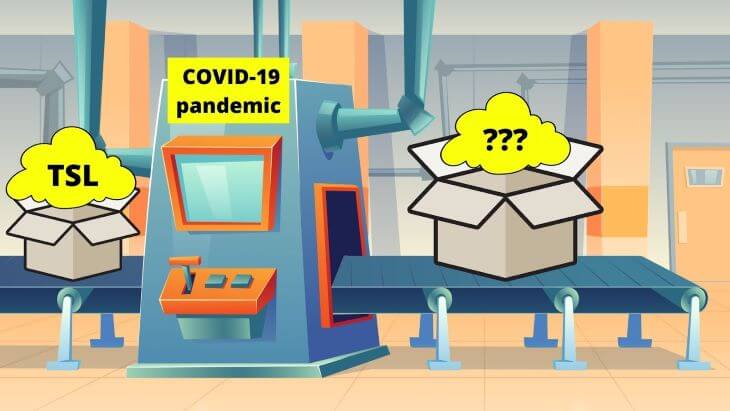 Source: www.freepik.com
On the day of the publication of this article, we can roughly say that the epidemiological situation has already peaked and is well on its way to becoming a negligible presence. During the 2-year period of intensified pandemic, it has likely already verified and revolutionized where it was meant to. Therefore, waiting for the complete disappearance of coronavirus infections does not make sense, as we may not live to see it :).
Refreshed look at the supply chains
Due to the interruption and disruption of supply chains caused by the coronavirus pandemic, many companies have decided to carefully review, and even redesign, some of their components. This is aimed at becoming more resilient to sudden market changes. Currently, nearshoring and friendshoring are gaining popularity as supply chain management strategies. They facilitate the shortening of supply chains by moving production and business processes abroad.
Automation, automation, and automation again…
The inadequacy of logistics processes in many companies caused by the pandemic has contributed to an increased awareness of the need for new technologies. In addition, due to the limited availability of specialists in the TSL department, many companies have realized that they should not delay the consistent implementation of artificial intelligence (AI), machine learning (ML), Internet of Things (IoT), and robots any longer. This sometimes forces them to set aside ethical and social discouragements.
Digitalization – a recipe for difficult times
The widespread digitization goes hand in hand with automation. In the post-pandemic reality, remote or at least hybrid processes are preferred depending on the possibilities. Cloud processing, Big Data, and e-commerce are still doing very well after the pandemic. Many companies decided to remain solely in the digital sphere, using integrated software for efficient management.
Green logistics – #sustainability
The pandemic has contributed to an increased focus on local sources of goods and materials. This has allowed for a greater appreciation and longer-term interest in on-site production, which has led to a reduction in the distance that products need to be transported. As a result, greenhouse gas emissions are decreasing, aided by ongoing digitalization and remote work. The pandemic has also accelerated investment in eco-friendly energy sources to increase energy efficiency.
Advice for the future, to not be caught off guard
According to the saying "forewarned is forearmed", it is worth being prepared for future events. The reality proves that we don't have to wait long for the next unexpected event, such as the year and half-long war in Ukraine. Of course, it's impossible to prepare completely for the worst-case scenario. However, steps can be taken now to optimize the loading process. EasyCargo load planning software fully utilizes the cargo space capacity, saving you time and money.

Source: https://www.ey.com/en_gl/supply-chain/how-covid-19-impacted-supply-chains-and-what-comes-next
If you want to learn more about the impact of the pandemic on supply chains, we encourage you to check out the research by EY, which you can find at this link. It contains a lot of useful pieces of information from which you can draw conclusions to better react to future market changes.
The TSL industry is essential for the functioning of today's economies worldwide. Without it, international trade would be less efficient. After the pandemic, the industry has emerged, relatively speaking, "intact" and ready for new challenges. Let's hope that at least a favorable scenario will also unfold in the case of the US-China trade war or the war in Ukraine.
Martina Krupičková | 31. okt 2023
---