HMM Algeciras – The New Biggest Container Ship in The World
It hasn't even been half of a year since we published an article about the biggest container ship in the world MSC Gülsün, yet the information in the article is already outdated so here is a quick little update from us.
MSC Gülsün hasn't enjoyed her status as the queen of container ships for long. Already after ten months since she was finished, the workers from South Korean shipyard Daewoo Shipbuilding & Marine Engineering were done building a new ship. HMM Algeciras, which was then handed over to the owners of the ninth-largest container shipping line in the world, HMM company (formerly known as Hyundai Merchant Marine).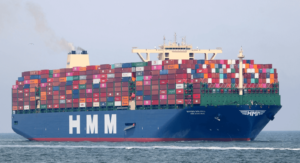 The new biggest container ship in the world
Source: https://www.fleetmon.com/vessels/hmm-algeciras_9863297_8947235/photos/2823933/
Although due to the limited capacity of mainly European ports, the external dimensions remained almost identical to those of MSC Gülsün (400m in length, 61m in width). Daewoo engineers were able to better design space both onboard and below deck at HMM Algeciras, increasing transport capacity at 23964 TEU (twenty-foot-container equivalent unit), 208 TEU more than its predecessor. If all the containers that fit on her deck were lined up, they would form a line 150 kilometres long. This made HMM Algeciras the new biggest container ship in the world.
The new queen of the oceans was named after the southern Spanish port city of the same name near the Strait of Gibraltar. Her creation is connected with the promise of South Korean President Mun Che-in, who would like to raise the South Korean shipping industry to the world's TOP 5. Her maiden voyage began on June 3, 2020, in Qingdao, China, from where she continued via Busan, Ningbo, Shanghai, Rotterdam, Hamburg, and Antwerpen to her final destination in London. She sails under the flag of Panama.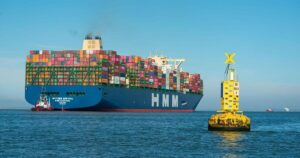 The largest container ship in the world, HMM Algeciras
Source: https://i2-prod.essexlive.news/incoming/article4224853.ece/ALTERNATES/s1200/0_ll_1406_HMMAlgecirasjpeg.jpg
MSC Algeciras will probably enjoy her unique primacy at least until the end of 2020. It is the first finished of twelve 24k TEU class vessels, which were ordered in September 2018 and split between Daewoo Shipbuilding & Marine Engineering and Samsung Heavy Industries. The remaining eleven vessels are due to be delivered in 2021. However, their capacity could be similar, if not identical to the MSC Algeciras'. It is possible that she will maintain her primacy even after 2020. However, she might have to share it with her colleagues. Given the political trend to reduce heavy cargo traffic in European ports and the current unfavourable shipping situation caused by the COVID-19 pandemic, it is quite unlikely that another ship bigger than MSC Algeciras and her 11 colleagues will be built in the near future. So be sure to remember this name!
Anna Melounová | 24. elo 2020
---