The 5 best online container tracking systems
We live in a world of globalization. So much so, that many things have changed by the time this sentence is finished. The same thing applies to basically all industries in our modern world. But for logistics and transportation companies, maybe a little bit more. To be able to hold together the backbone of today's globalized economy, which is the supply chain, new technologies are invented almost constantly. And there, also belongs online container tracking systems, which are so crucial for the current market.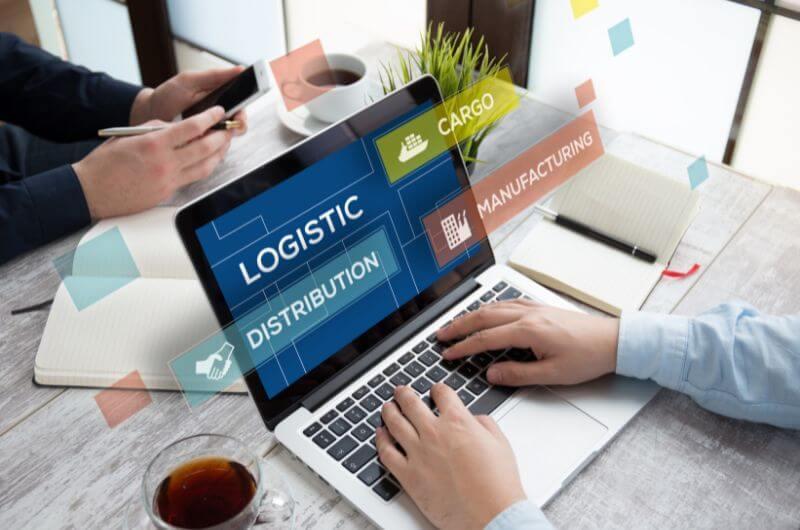 Source: www.canva.com
What is an online container tracking system?
An online container tracking system is an online tool that enables logistics specialists to monitor the movement of shipments and shipping containers in real-time. More easily put, thanks to used tracking technology—such as GPS, RFID, or satellite tracking—you are able to see exactly where the observed shipment is located right at the moment.
These online tracking systems also provide other useful information beyond just location, like the container's current status or its condition. You can have your shipment under control and track possible delays or disruptions early so you have the ability to fix the situation right away. Online tracking systems are heavily used in logistics and shipping industries because they help to improve their services as well as reduce costs and risks.
Why is it important to track containers online?
To answer this question, we have to answer another one first. What are the risks that can occur during the shipment and cause possible damage or create other obstacles? The supply chain processes are already complicated as is, but online tracking software offers a helping hand during these operations. If you locate the shipment and have it under control, you can minimize the risks of theft, damage, or loss.
On the other hand, online tracking systems can help save you or your employees' plenty of time. If they had to check every shipment manually, it would certainly take up more of their time and effort than easily opening the system with an overview of the shipments' locations and statuses.
Benefits of tracking systems
Some benefits we've already mentioned. But practice makes perfect, so here are all the main benefits of using online container tracking systems.
Real-time tracking

: The biggest benefit is the ability to see the immediate location and status of the shipment in case any problems requiring immediate attention occur.

Improves customer service

: Choose a system that allows you to share certain information about the shipment to customers. Providing accurate and up-to-date information on the status or location of their cargo helps build trust and increases customer loyalty.

Risk reduction

: Using online container tracking solutions leads to reduced risks of mistreatment of the cargo in the course of transportation. Thanks to the quick detection of potential risks, the technician responsible for the shipment can respond to the situation accordingly.

Increases efficiency:

Container and truck tracking systems can help ] streamline the supply chain by reducing the time it takes for cargo to reach its destination. This can help to reduce costs and increase operational efficiency.
Systems
Choosing the best system can be a bit tricky. The "best" container tracking software can vary depending on the specific needs of your business. Therefore, remember that it is important to evaluate each system individually based on your set-up criteria. These are a few of the currently best online container tracking systems.
1. Maersk Line
This shipping company with an advanced container tracking system is part of Maersk Group, one of the biggest logistics companies in the world. The system provides basic features such as real-time tracking as well as more detailed information.
2. CargoSmart
CargoSmart is a platform using cloud computing technology that provides end-to-end container tracking and supply chain visibility. Its system uses advanced analytics and machine learning algorithms to offer valuable insights into your shipping operations.
3. MarineTraffic
MarineTraffic is a vessel-tracking and maritime analytics platform that offers unparalleled insights into the movements of ships worldwide. Marine Traffic provides you with a powerful tool to monitor ships carrying dry or wet cargo. Moreover, MarineTraffic offers Visibility for Containers solution, allowing you to track your containers in real-time. This solution goes beyond basic tracking by providing precise and reliable data on the estimated time of arrival at each stop, all the way to the final destination of your shipments. Unlike other systems, Marine Traffic's predictive estimates are carrier-independent, ensuring accuracy and peace of mind for your logistics operations.
INTTRA is a leading container tracking and booking platform that connects shippers, carriers, and logistics providers. It offers real-time tracking information, e-invoicing, and other features to streamline the shipping process.
.5. Evergreen Line
Evergreen Line provides online software for Evergreen container tracking. Like other advanced tracking systems, it offers reliable real-time tracking and monitoring of containerized cargo. On top of this, it provides a range of features, including vessel tracking, cargo tracking, and schedule management.
Martina Krupičková | 9. máj 2023
---