6+2 Essential Online Applications For Home Office Not Only During Quarantine
The unfortunate events of the last couple of weeks have caused problems for many businesses. And while for many brick and mortar store is a necessity, there is still a lot of companies whose employees can work either entirely or at least partially from their home. The only thing they need is a laptop (and sometimes not even that) and an internet connection. The current situation has forced even those companies, which did not use to be home-office-friendly, to re-evaluate their approach and quickly come up with a solution on how to enable their operations to be run remotely.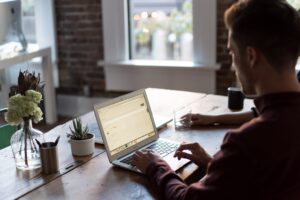 One can assume that when the situation is back to normal, the already high popularity of home-office as an employee benefit will be even higher as more companies will offer it, and more employees have experienced it. Take the contemporary circumstances as an opportunity to finally change the processes within your company so that it can be operated from anywhere. Since our procedures in EasyCargo have been set like this from the very beginning, we figured we would share 6+2 (for us) necessary applications that enable us to work from anywhere in the world. It's not the only way, of course, but it is a way that works great for us, and it may for you too.
If you are interested in this topic, here are some extra tips for efficient home office apps.
Google Chrome
Yes, seriously. We know that suggesting a web browser as an application for remote work might sound a little unnecessary, but using the other apps from our list with – let's say – Internet Explorer might not work as smoothly as with Chrome. For example, you couldn't even use some extensions at all. That's why we recommend installing the Chrome browser. With that out of the way, let's start with some exciting applications.

Google Chrome
Source: https://logodownload.org/wp-content/uploads/2017/05/google-chrome-logo-1.png
Google Workspace
Do you use Gmail as your private account? Do you like its ease of use, functions, excellent spam filters, integration with other apps, and reliable servers? We do too. That's why we decided we want to use Gmail as our company email client. Google Workspace enables you to use Gmail with your corporate domain (name@companyname.com). Apart from that, you can also use other Google applications with your company account – Google Drive, Google Docs, Google Sheets, Google Slide, Google Meet, and many others. For the price starting at $5.40 per month, you're getting an excellent foundation for office work.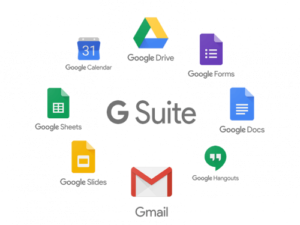 Google Workspace Suite applications
Source: https://napoveda.skaut.cz/_media/g_suite_logo.png?w=500&tok=f9f0a5
Google Drive
Google Drive is an online file storage and synchronization service with which you have access to your files from anywhere, and you can share them with anyone – inside or outside of your company.
Google Docs
Google Docs is a word processor similar to Microsoft Word. If you're used to working with Word, switching to Google Docs will require a little getting used to, but it's only a question of a week or two.
Google Sheets
Same as Google Docs, Google Sheets is an alternative to another Microsoft product – Microsoft Excel.
Google Meet
When people don't work at the same place, it is necessary for them sometimes to discuss a problem, sum up the situation, or give an update to each other. Google Meet enables you to do just that with easy-to-use and quality video calls. Most people are probably more familiar with Skype. However, we find Google Meet to be more reliable, plus it can be used with the Google Workspace account.
Asana
Asana is a project management app customized for work in teams. It allows you to create tasks and to-do lists sorted into projects. Those can be visible just for you, or you can share them with a specific group of people within your organization with whom you collaborate on the project as well as those who are somehow affected by the project, or who needs to monitor it.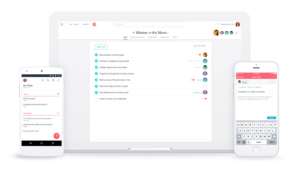 Asana
Source: https://luna1.co/eafc3a.png
Asana is free in the basic version. It is integrated with G-Suite, and supports the integration of various other online apps. One of these apps is Everhour.
Everhour
Everhour is designed for tracking time spent on individual tasks, subtasks, and projects. After integration with Asana, you click on an icon next to the task you are about to work on and Everhour automatically starts counting the time spent on this task. Once you're done with the job, or you decide to work on something else, you can switch to Asana, where you click on an icon of the new task.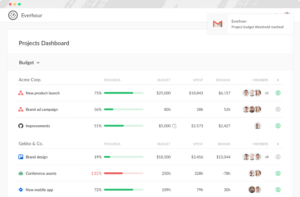 Everhour
Source: https://blog-cdn.everhour.com/assets/images/new-design/screens/projects-dashboard-v2.png
You can also install an Everhour extension into Google Chrome – then you don't even need to switch to Asana to mark the task you're working on. You simply click on it right in your browser. Everhour generates daily, weekly, monthly, and ad-hoc reports, which can serve both for your overview and as a basis for payout or invoicing calculation. Also, this solution is available for free in the basic version.
Slack
We already mentioned Google Hangouts Meet as an app for video calls. However, most of our communication, is over
Slack
. You can sort the conversations into individual channels based on the teams, projects, customers, or anything else. That way, you are always apart of only those chats which are relevant to you. If you need to look for some information, you know in which channel you need to search for it. Unlike email conversations, you can leave any channel anytime – no more "please take me out of the loop" 🙂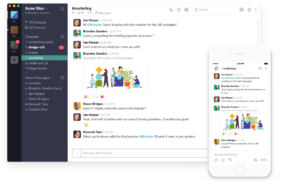 Slack
Source: https://png.pngitem.com/pimgs/s/220-2201220_slack-software-hd-png-download.png
Leave the old-fashioned internal email communication and move it to modern Slack! The basic version is free.
Xero
Xero is online accounting software designed primarily for small and medium companies. It's user-friendly and straightforward, yet it offers many useful features like integration with your bank accounts for automatic payment of invoices and cash-flow monitoring. It can generate invoices with a button for quick payment, and it's able to send automatic reminders for overdue payments. You can set accesses for individual users only to those sections of Xero, which they need for their work. For example, to your bookkeeper, office manager, and so forth. Generating reports and analysis is available too. Xero is also optimized for smartphones and tablets and starts at $20 / month.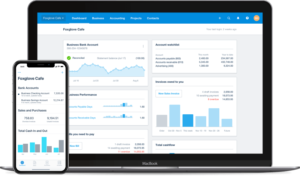 Xero
Source: https://www.xero.com/
In our opinion, these six above-mentioned applications will be enough as a basis for remote work for a vast majority of companies. However, this article is focused primarily on people from logistics and transportation. For those, we have two more tips for online apps from the world of logistics, import, and export.
EasyCargo
EasyCargo is a container and truck loading online application. You simply enter dimensions, weight, amount of items, constraints for loading (non-stackable, non-rotatable, etc.), and EasyCargo will calculate the optimal load plan. This load plan will save cargo space and time for thinking about how to load the cargo. You can enter the information manually or import it from Excel or Google Sheets. It's also possible to integrate EasyCargo through provided API with your ERP (if your ERP is SAP, German company status-c can help you with integration).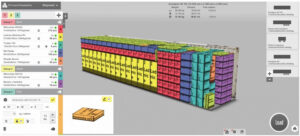 The user interface of EasyCargo
The output is either graphic design in pdf, 3D model in a browser, or now also our new step-by-step load plan – you can send any of these to your warehouseman from your home. If you want to know more about EasyCargo, have a look at all product features, a demo video, or just try the app yourself using the ten-day free trial version.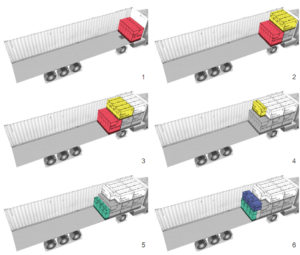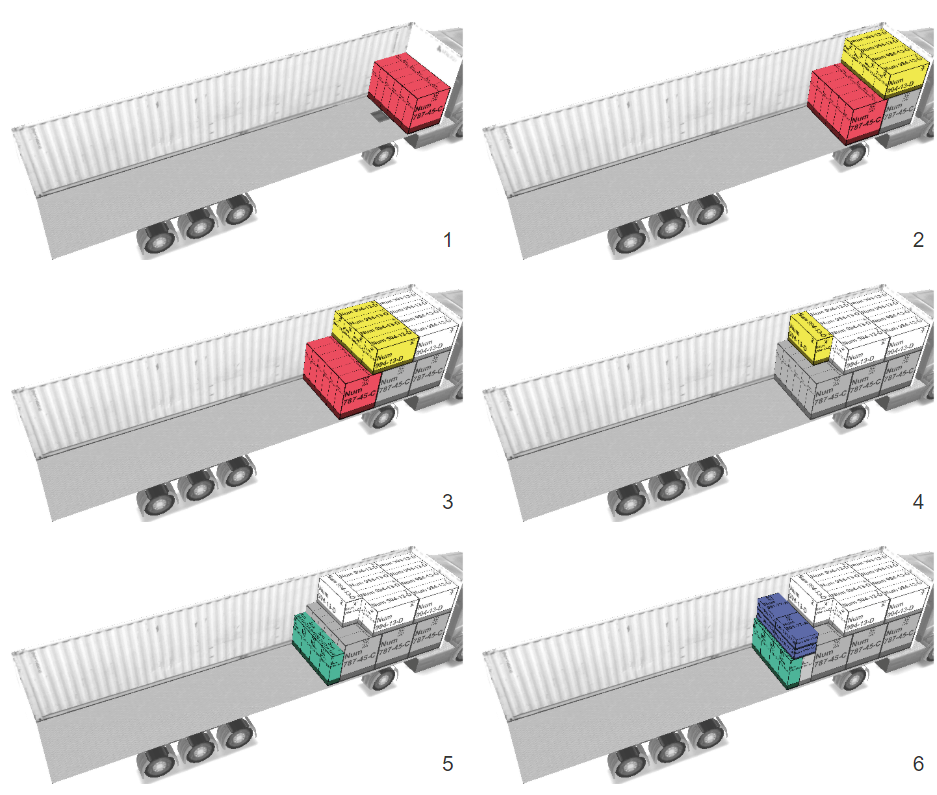 Preview of the Step by step load plan
If you like it, you can buy it from $42 per month. We offer monthly and annual subscriptions if you use EasyCargo frequently or 24-hour tickets if you need to plan loads only a few times a month. Detailed information about pricing can be found in our price list. Don't hesitate to contact us in case of any questions.
IncoDocs
IncoDocs is a complex tool for document management, tailor-made for importers and exporters. After filling in data like route information, information about products, contacts, and so forth, you can generate all the documents you may need as an exporter/importer in just a few clicks.
Generate a quote and send it to your potential customers who can easily make some adjustments or approve it and send it back in one click. This will automatically generate a purchase order which will be delivered back to you. You can turn it into a Pro-forma invoice, which will be sent to the customer within a few seconds. After acceptance, it can be simply transformed into a commercial invoice. Once it's time for the transport of the goods, you can quickly generate a Packing list, Bill of Lading, or Import Security Filing in the application. Apart from the already mentioned documents, IncoDocs also offers the creation of a Certificate of Origin, Verified Gross Mass Declaration, Shipping Instruction, and many others.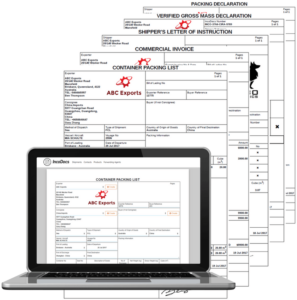 IncoDocs application
Source: https://medium.com/@benthompson1935/understand-the-export-documentation-required-for-your-export-shipments-5a804275817d
Like every other software in today's article, Incodocs is completely online, so the generation of all the documents can be done from any place with an internet connection. You will also like the fact that the basic version of IncoDocs is for free. When we talk about IncoDocs, have a look at their Guide for managing exports remotely, where Ben Thompson, co-founder of this company, offers his view at how to face the current challenge and work remotely.
And that's it – 6+2 applications with which you can switch entirely or at least partially to online mode and work from anywhere. We believe that this way, your business will be more flexible, stable, and enjoyable.
Anna Melounová | 15. Apr 2020
---